BibTeX references with FileMaker (http://www.novajo.ca/bibtexfmpro/)
The purpose of this database is to make management of BibTeX references easier. You can enter all the information you need for your records, then export the database as a BibTeX file and process it using LaTeX.
Red fields are required, green are optional and blue are for your personnal use. One field in a set followed by a parenthesis should be filled. Refer to Leslie Lamport's LaTeX manual or the BibTeX program for more information.
Setting the type of the document will not bring up the appropriate form: you have to select it manually.
The Journals database is used to make it easier to enter the sources and can be edited by clicking on the "Journal" label in any layout or simply opening the Journal database.
After making changes, export the database to a "References.bib" file by pressing the Export button (top-right)
If you do not use BibTeX, you can still use the LaTeX \bibitem field and paste it in your document, but your have to do the formatting yourself. There are three main layouts that include everything you should need for articles, books and unpublished (e.g. personnal communications). The "Others" layout has all the fields that BibTeX accepts: if I forgot anything in one of the three layouts, you can always use this one.
You might already have a .bib file that you would like to import into FileMaker. I wrote a Perl script that extracts the data and produces a tab-separated file that can be imported into FileMaker via the Import Records menu item. It is available here. The .bib file name is hard coded in the script so are the fields you want to export. It has not been used on one file only so you might have to improve it for it to work properly. It is a good start though.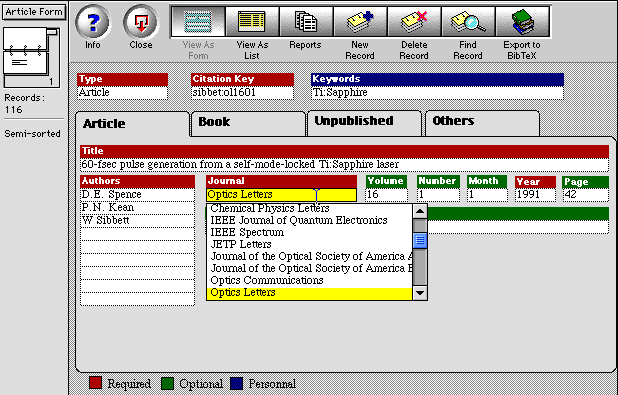 Requirements
This does not provide you with a copy of FileMaker Pro: you have to own it. Go take a look at http://www.filemaker.com/ if you want to buy it.
You also need a working installation of TeX/LaTeX. There are tons of free implementations of TeX/LaTeX for Macintosh and Windows computers. Take a look at the Comprehensive TeX Archive Network http://www.ctan.org/.
Finally, you also need BibTeX. A lot of the TeX/LaTeX distributions come with BibTeX. A BibTeX implementation for the Mac is available right here.
The database was done with FileMaker Pro 3, and hence should work with any version after that. It somewhat requires the relational features of FM Pro 3 because of the Journal database which is used to facilitate data entry in the Reference Database but it is not essential: you could do without it.
I think it would work under Win9X, but I am not sure: I know that FM Pro 4 is cross-platform, but I have not checked FM Pro 3.
Download
You can download the package right here:
How much does it cost ?
This BibTeX FM Pro database is $10 shareware. You can register online if you wish at Kagi's secure web site. You can also use the Register program that accompanies the database. Enter your name, your email address and the number of single user licenses you desire for each program you wish to purchase. Save or Copy or Print the data from the Register program and send the data and payment to Kagi. More specifics on the Register program to follow. Kagi handles my payment processing.
If paying with Credit Card, you can email or fax the data to Kagi. Their email address is sales@kagi.com and their fax number is +1 510 652-6589. You can either Copy the data from Register and paste into the body of an email message or you can Save the data to a file and you can attach that file to an email message. There is no need to compress the data file, it's already pretty small. If you have a fax modem, just Print the data to the Kagi fax number.
Payments sent via email are processed within 3 to 4 days. You will receive an email acknowledgement when it is processed. Payments sent via fax take up to 10 days and if you provide a correct internet email address you will receive an email acknowledgement.
If you are paying with Cash or USD Check you should print the data using the Register application and send it to the address shown on the form, which is:
Kagi
1442-A Walnut Street #392-ZTP
Berkeley, California 94709-1405
USA
You can pay with a wide variety of cash from different countries but at present if you pay via check, it must be a check drawn in US Dollars. Kagi cannot accept checks in other currencies, the conversion rate for non-USD checks is around USD 15 per check and that is just not practical. If you have a purchasing department, you can enter all the data into the Register program and then select Invoice as your payment method. Print three copies of the form and send it to your accounts payable people. You might want to highlight the line that mentions that they must include a copy of the form with their payment. Kagi can not invoice your company, you need to act on my behalf and generate the invoice and handle all the paperwork on your end. Please do not fax or email payment forms that indicate Cash, Check or Invoice as the payment method. As far as we know, there is still no technology to transfer physical objects via fax or email and without the payment, the form cannot be processed. Payments send via postal mail take time to reach Kagi and then up to 10 days for processing. Again, if you include a correct email address, you will hear from Kagi when the form is processed.
Legal matter
This comes with no liability expressed or implied. You cannot distribute a modified version without my consent. If you improve the database, I'd be quite happy to get a copy of your modifications and would credit you for it. Even better: if you own a copy of FileMaker Developer Edition and are willing to compile the database into a stand-alone application, let me know and we will work out some arrangement. If you download it, you probably want to send me an email such that I can let you know if I update it. Feel free to report bugs or feature requests at dccote@novajo.ca.
History
August 27, 2000

Added an ISBN field in the Other layout and added it to the export list.
Made available a Perl script to convert existing BibTeX files to a format that can be imported by filemaker

June 21, 1999

Added an Error Capture Mode to the Export script in order to catch the case where no entry has a valid citation key and display a meaningful error message.
Modified the "Export" script in order to export all fields (I was too lazy before and only included those I needed)
Added a "Chapter" field in the book layout
Added a (1) after Editor and Publisher in the book layout since only one is required
Added a "Folder" layout for personnal use and a related database which can be accessed by clicking on the "Folder" label.

March 1999